Straight Dark Purple Lace Front Synthetic Wig LF029
Photos From Our Customers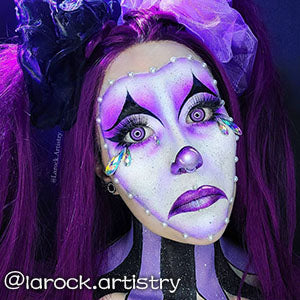 Product
Style Code: LF029
Color: Dark Purple
Cap Size: Head Circumference about 22.5" - 23"
Length: About 24"
Wig Type: Lace Front
Lace Type: High Quality Swiss Lace (1.5 inches)
Parting: Any Direction
Material: Synthetic Fiber
Heat Resistant: Up To 150C Heat Resistant By Heat Tools
Remarks
- Color that appears on your monitor could vary from the original color of the wig due to different monitor settings.
Disclaimer:
This wig by WIF is designed and produced specifically for cosplay purposes, inspired by various fictional characters. Please note that this wig is not affiliated with or endorsed by any of the original character creators or their respective companies.
Perfect Mermaid Wig
This wig was perfect to complete my professional mermaid costume. I got so many complements! After trying so many other cosplay type wigs, I'm glad I finally invested in a lace front. So much more realistic and didn't take as much damage after the chlorine. 💜
Vibrant and Fun
This is the first colourful wig I have purchased (for a Psylocke Cosplay) and I was not disappointed! The colour is so vibrant and the texture is soft. Perfect length and comfortable to wear.
Perfect
The color is wonderful and like the picture. I really love it !
Really fantastic!
I'm always wary about ordering from new sites but I was SO pleased with this wig. The colour is exactly like in the photo, the quality is amazing, and I honestly have 0 complaints. I'm always scared of ordering from China bc of the shipping time but it was here within 3 weeks, which imo, isn't bad.
Highly recommend.
Absolutely Stunning
WIF wigs never fail to be gorgeous, soft. and lovely to style. this wig is so pretty i hate to cut and style it haha. the color is very rich too, which im very glad for.
Great quality, lots of fun!
I bought this wig because I had previously dyed my hair purple but it was difficult and expensive to maintain, so I decided to invest in a cheaper and longer wig instead. There's definitely a lot of hair, and a few strands shed but it isn't too bad. I like that it comes with combs to secure it in place.
I would say the colour is a gorgeous berry pinkish purple--perfect if you're cosplaying as Mal from Descendants.
I wore the wig for Halloween and so many people thought it was my real hair. Definitely recommend!
I love this wig <3
I love this wig!! It's so comfortable and soft, and feels very realistic. It was really fun for me to put this on and see what I would look without blonde hair, and I loved it! Great quality and a good purchase.
Amazing (::
It looks exactly like the picture. It's super thick but not heavy. The flexi combs are really strong. Not too much shedding. Easy to comb through.